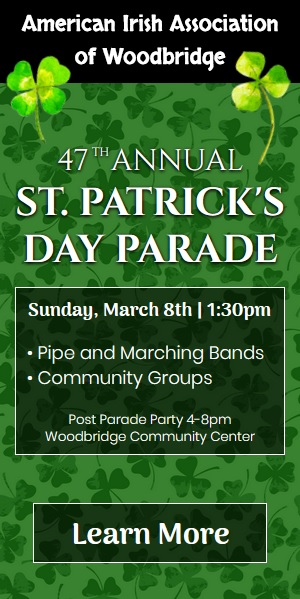 2020 St. Patrick's Day Parade
Feel free to check out: Video Coverage of the 2020 Parade (below)
March 8, 2020 (9:00am) Association and Honoree Ceremony at Woodbridge Town Hall Council Chambers starting at 9AM
Immediately followed by the Flag Raising Ceremony @ Town Hall Grounds (March 8, 2020)

March 8, 2020 Parade @ Woodbridge High School (steps off at 1:30 pm) Ends at Woodbridge Town Hall.
OFFICIAL Post Parade Party from 4-8pm, Woodbridge Community Center, 600 Main Street (Admission if Free)
2020 PARADE HONOREES
Grand Marshal - Claire Curran-Miloscia
Irish Woman of the Year - Barbara Lasek
Irish Man of the Year - Terence "Terry" Sharkey
Miss American Irish - Grace Fischer
Lady-in-Waiting - Erin Sinatra
2020 Parade Honoree Slideshow Video
Local - TV-35 Parade Commercial for 2020
2020 Flag Raising Ceremony Video
2020 Flag Raising Ceremony from TV-35 Woodbridge NJ (ABOVE)
2020 Parade Coverage from TV-35. Video on Demand.